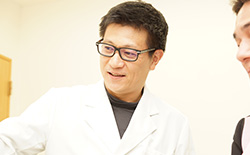 To provide you and your family with all your general dental treatment needs in a professional yet friendly, caring and relaxed atmosphere. We are located conveniently in the heart of Tokyo Ginza district.

We excel at meeting the individual dental needs of our patients and offer them the information and treatment required to best prevent dental diseases.

We strive to provide you with a range of treatment options. These services include Cosmetic Dentistry, Teeth Whitening, Porcelain Veneers, Dental Implants and General Preventative Care. We are also able to provide Sleep Dentistry sedation for apprehensive patients.

We aim to enable you to make an informed decision about your dental care, that you feel will be best suited for your particular circumstance.

Ginza 5-chome Dental Clinic, the art of dentistry



Ginza 5chome Dental Clinic is conveniently located right at the A1 entrance of Ginza Subway station. (Ginza Mitsukoshi Department Store and Nissan Gallery are across "Ginza 4-chome intersection".)
Office Hour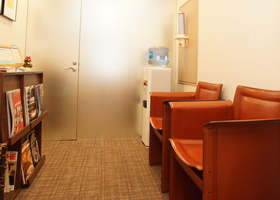 Calm and relaxing atmosphere
at the waiting space.
We are open from 10 a.m. to 13 p.m. in the morning and 14 p.m. to 19:00 (Mon, Wed, Thur)/ 20:00 (Tue, Fri)/ 16:30 (Sat) in the evening, all days except Thursdays, Sundays and National holidays. Feel free to email us your inquiries or about your concerns about your oral health. You can write us your messages in English.

info@ginza-smile.info
Or call us 03-5537-6874


Implants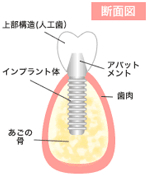 A dental implant is an artificial tooth root placed into your jaw to hold a replacement tooth or bridge or implants in place.
Dental implants represent one of the most exciting developments in dental technology. At Ginza 5-chome Dental Clinic, we are able to fill unsightly gaps left by missing teeth and secure loose dentures using the implant concept. This can all be achieved without preparation or damage to your existing teeth and results in enhanced cosmetics, function and confidence for our patients.

For your implant to function we prepare a socket to accommodate an implant which over time fuses with the jawbone. A secondary procedure is required that prepares the implant for restoration this enables placement of the required crown, bridge or denture. Patients are able to enjoy a quality of life they felt they had lost forever when losing their natural teeth. Our staff will be happy to accommodate you by making an appointment for a consultation with our higly experienced Surgeons trained implantologist, who offers a comprehensive service including onsite 3D imaging technology, computer guided implantology, surgical placement and restoration.
| | |
| --- | --- |
| Price | ¥500,000(tax not included)/1piece |
Orthodontics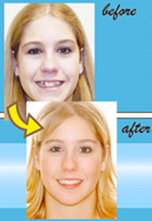 DAMON orthodontic treatment based on latest technology allows patients go through the procedure with no pain and less office visits.
At Ginza 5-chome Dental Clinic, we offer the latest DAMON System orthodontic therapy (Less visible braces and Pain free application) to straighten your teeth serving patients from Tokyo and Kanto areas. Following consultation and discussion to ascertain the desired outcome resulting from your orthodontic treatment, impressions and photographs are taken of your existing dentition. This information is sent to the DAMON technician who returns a computer simulation of the planned tooth movements. Once approved by the patient the brace appliances are ordered.

Treatment is simple and normally requires the patient to replace the appliance with the next appliance in a sequence every 4 to 8 weeks until treatment is complete.
| | |
| --- | --- |
| Price | ¥900,000-(tax not included)/DAMON |
| Price | ¥600,000-(tax not included)/Implant |
Teeth Whitening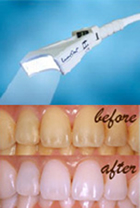 LumaCool - We find LumaCool to be the best Whitening System with shorter application time and incredible results !
We find teeth whitening is a fantastic way to rapidly improve the cosmetic appearance of your teeth. Thanks to our high-technology cosmetic studio. We use our in-house whitening system to improve your smile in under an hour. Teeth are whitened with no need for a second visit or the use of a home whitening product. When you arrive at our surgery your mouth will be prepared and a protective shield will be applied to the gums to ensure that no damage can be caused to any area of your teeth and gums. Dr. Miyamoto and his team will then gradually whiten your teeth until they reach their optimum shade.

Cosmetic Dentistry - Ceramic Crowns and Veneers
Mercury-Free, Natural Colored Fillings
| | |
| --- | --- |
| Price | ¥30,000-(tax not included) |
Crowns
A dental crown is a great way to repair a damaged tooth. A crown is designed to return a single tooth or a group of teeth to its proper form and function. This restoration is custom made and is either bonded or cemented in place. The crown protects the tooth from further damage. A crown can be made of numerous tooth-colord materials.



All Ceramic Crown
This modern technique offers a metal-free alternative, which can give the strength of a bonded crown and the appearance of a porcelain crown. Therefore, it is suitable for use in all areas of the mouth.
"Hybrid" (Ceramic-resin composite) Crown
Ceramic and composite resin materials can sometimes look the most natural. However, these crowns are not as strong as bonded metal crowns.
Full Gold Crown
Gold based crowns typically outlive porcelain crowns 3 to 1. Safe, durable, and pliable; no other material can offer all the outstanding qualities that gold combines. Internationally, it the undisputed material of choice for long-term quality dental repairs. Gold becomes a really cost-effective choice.
Veneers

Porcelain veneers, also termed dental veneers or dental porcelain laminates, are one of cosmetic dentistry's more recent developments. Porcelain veneers are wafer-thin shells of porcelain that can be bonded onto the front side of teeth to make a cosmetic improvement in the teeth's appearance. Porcelain veneers are routinely used to idealize teeth that are: •Stained or discolored
•Worn
•Chipped
•Misaligned
•Alternative to orthodontic treatment
For decades dentists have had available to them materials that can create a durable bond to tooth enamel. These bonding materials are used to securely attach a thin sheet of porcelain (the porcelain veneer) to a tooth. Although porcelain is inherently brittle, when it is firmly bonded to a sturdy substructure (a tooth) it becomes very strong and durable.
Advantages of Porcelain Veneers Realistic Appearance
Porcelain veneers are glass-like, which have a great advantage over other types of cosmetic dental bonding by the fact that they are translucent. When they are bonded onto a tooth's surface they mimic the light handling characteristics of enamel.This translucency effect provides a sense of depth, and thus a very life-like appearance.
Resists Staining
A significant advantage of porcelain veneers is related to the fact that a porcelain veneer's surface is just that, porcelain. Since porcelain is a ceramic, and therefore glass-like, its surface is extremely smooth and impervious - this means that the surface of a porcelain veneer will not pick up permanent stains.
| | |
| --- | --- |
| Price | ¥110,000-(tax not included) |
Meet Dr. Miyamoto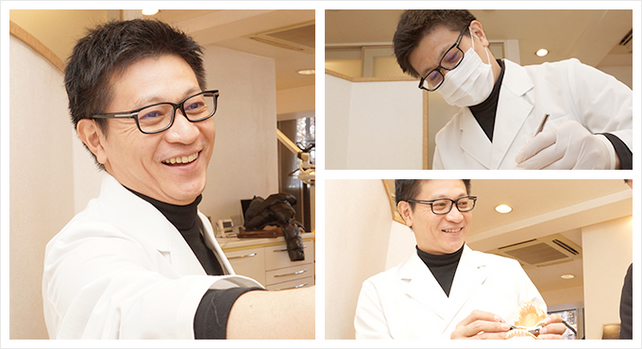 We use the latest dental technology to deliver a smile you deserve,come and visit our beatiful practice and have a chat to our staff about what we can do for you.
Fumio Miyamoto / Head Director &President
Credentials
•Japanese Society of Oral Implantology
•Academy of osseointegation
•Brånemark implant certified instructor
•The Japanese Academy of Clinical Periodontology
•Japanese Academy of Esthetic Dentistry
•Japanese Society for Temporomandibular Joint
•Japanese Academy of Occlusion & Health
Education
Dr. Miyamoto has completed advanced technical courses in a wide range of dentistry fields including Bone Transplantation, Esthetic Dentistry and Implantology in Japan and abroad as well (U.S. and Sweden).
He is a graduate of Niigata University, School of Dentistry, known for one of the best dentistry schools in Japan.
He is also a Certified Brånemark implantologist.


2005
Opened Ginza-5chome Dental clinic
2003
Completed Bone Transplantation, sinus Lift, Zygomatic Implant, Copenhagen Implant Center, Sweden
Opened Senseikai. Head Director
1998
Completed Esthetic Dentistry course, University of Pennsylvania
1997
Opened Miyamoto Dental Clinic
1995
Completed Oral Surgery/CTC Course (Advanced Implant Course), Halmstad Hospital, Halmstad, Sweden
Completed Theory in Mandibular Movement, Theory in Occlusion (TRDA, by Yoshiaki Nagata)
Certified Brånemark implantologist
1994
Completed Periodontal Therapy Course, by Prof. Hiroshi Okamoto
1993
Completed Oral Surgery/CTC Course (Advanced Implant Course), Göteborg (Gothenburg) University, Sweden
1992
Graduated from Niigata University, School of Dentistry
Practiced dentistry at Hatano Dental Clinic (Saitama-city, Saitama)
Completed Otani Endodontics Course
Quick Information about Ginza 5-chome Dental Clinic
| | |
| --- | --- |
| Mon・Wed | 10:00~19:00 |
| Tue・Tri | 10:00~20:00 |
| Sat | 10:00~16:30 |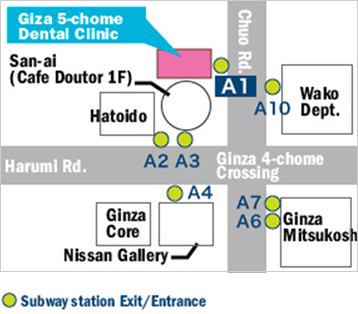 13:00~14:00p.m./Lunch break
Closed on Thursdays,Sundays and national holidays.
For appointment & questions,call us 03-5537-6874 or,e-mail us info@ginza-smile.info
All patients are seen by appointment only.
onveniently Located at the Heart of Ginza District
Ginza 5-chome Dental Clinic is right across from Ginza Mitsukoshi and Nissan Gallery at Ginza 4 Crossing. Our clinic office is on second floor of the building next to Cafe Doutor at the corner of the crossing.